Custom Shop 60 watt 3 x 10 combo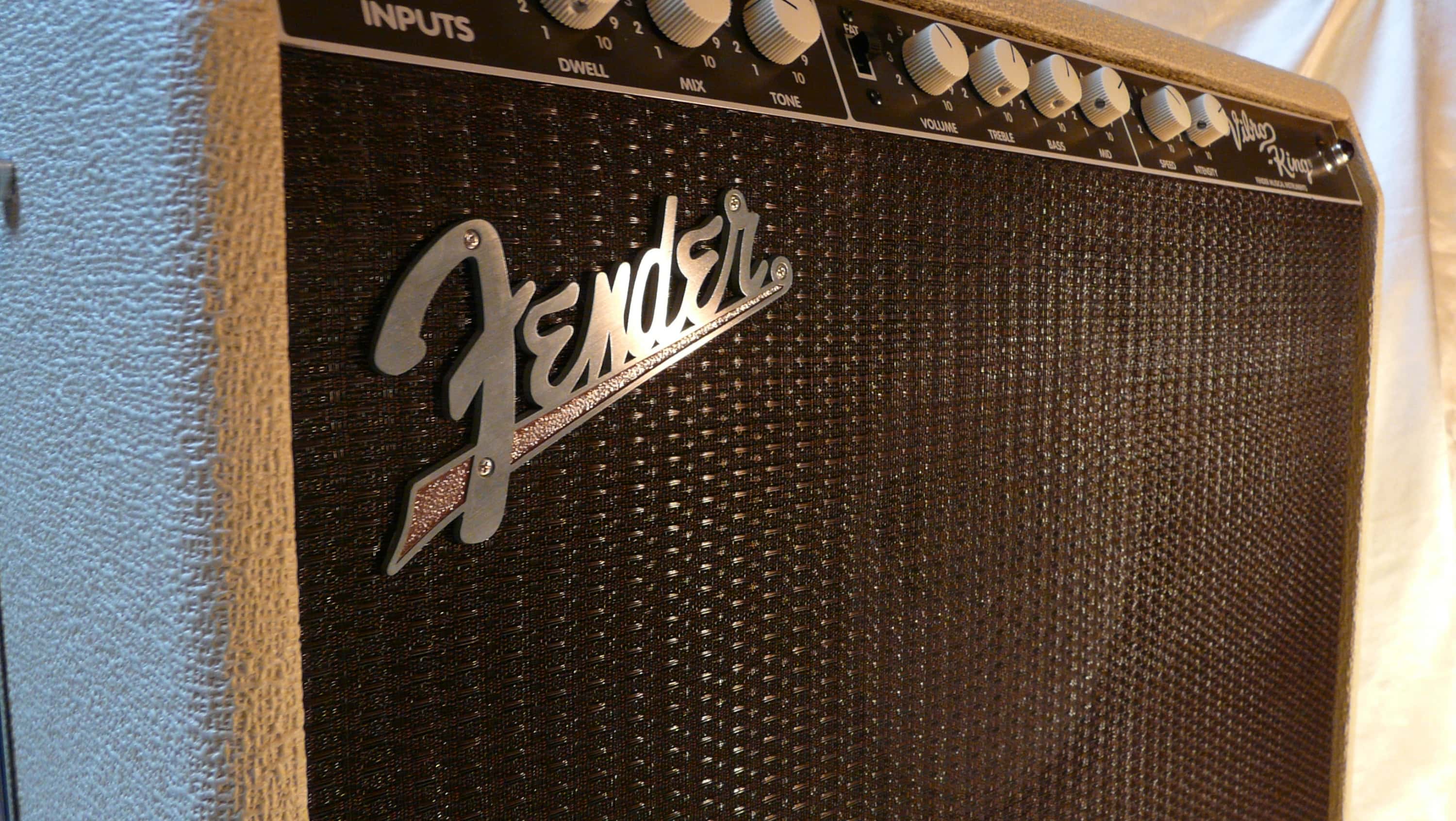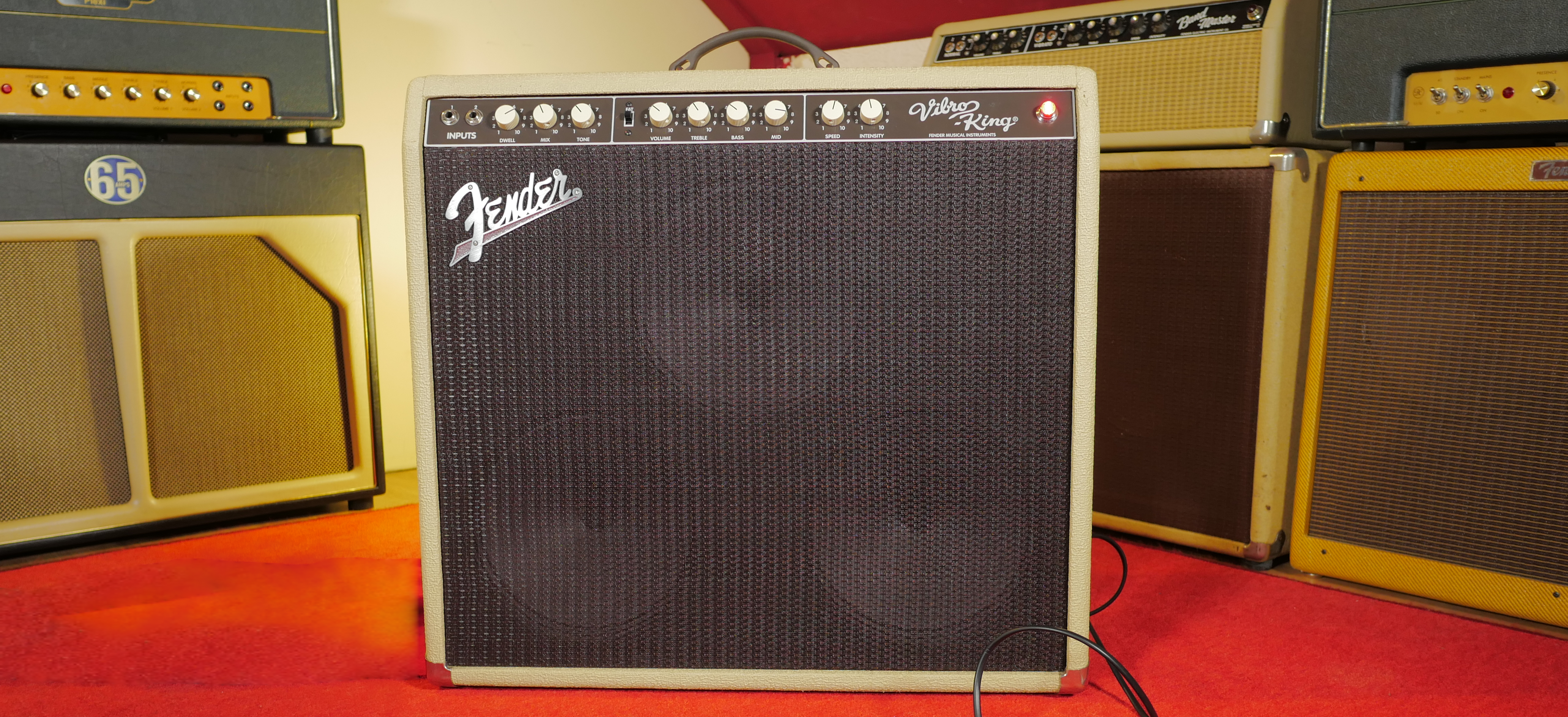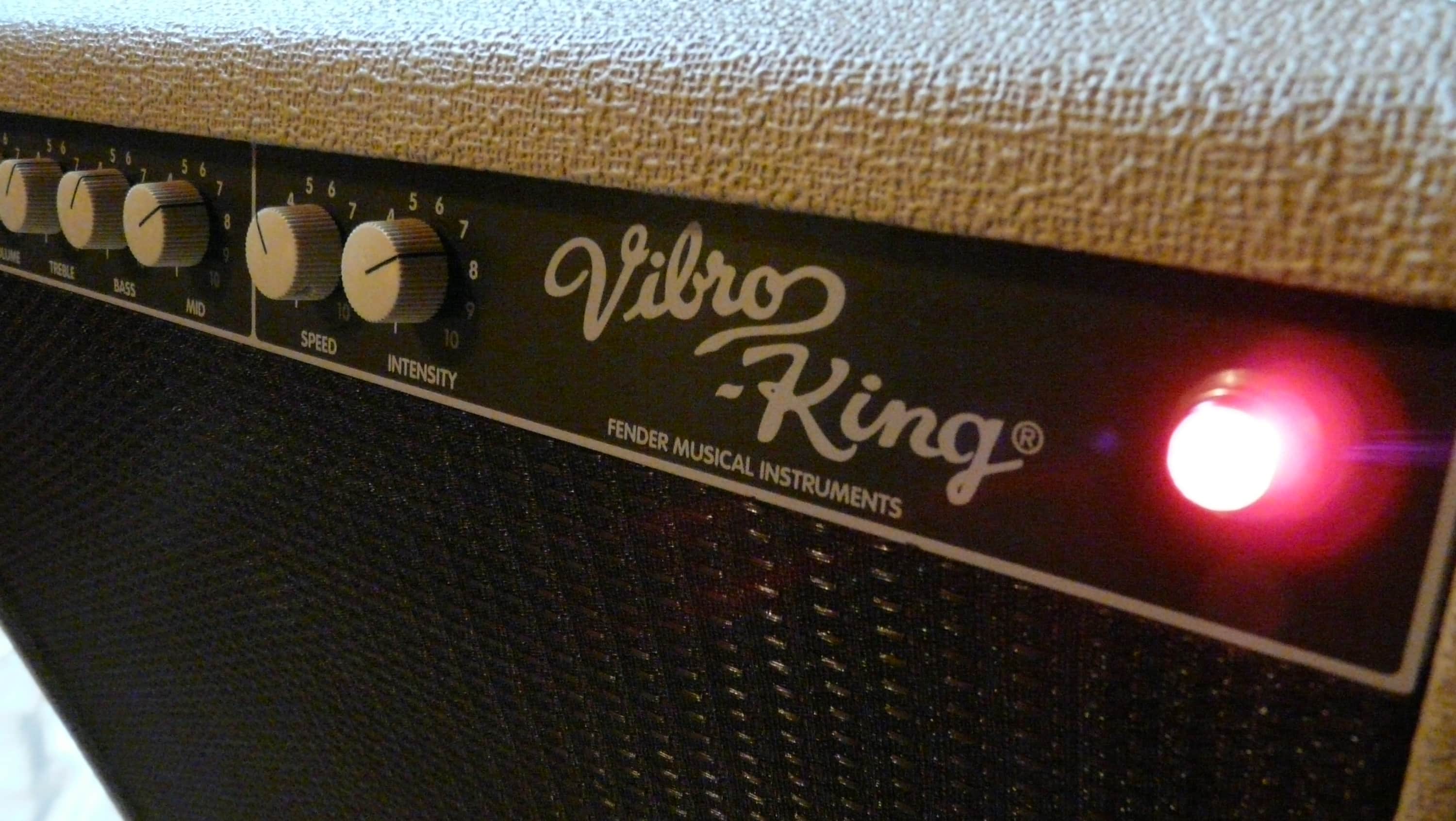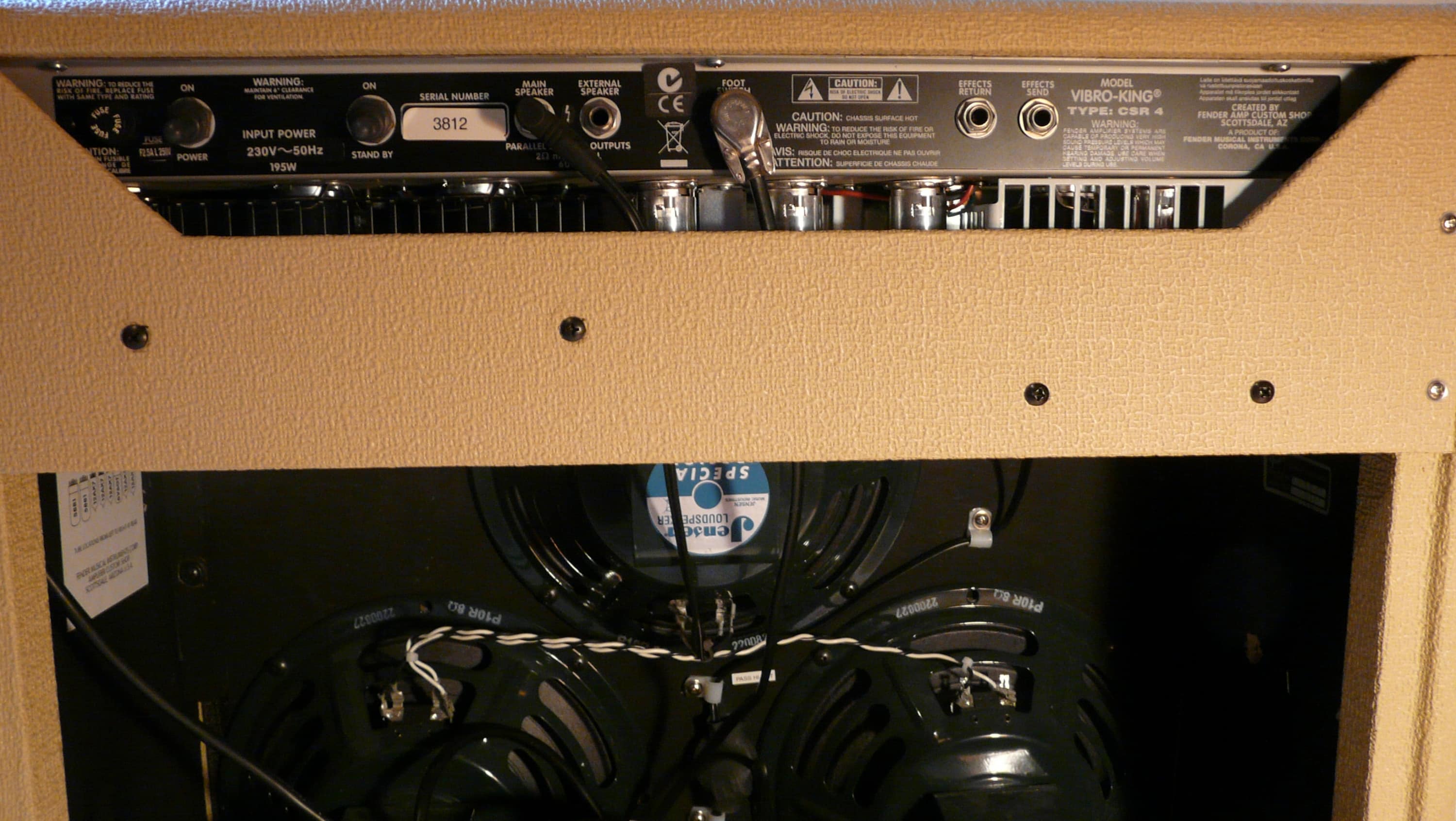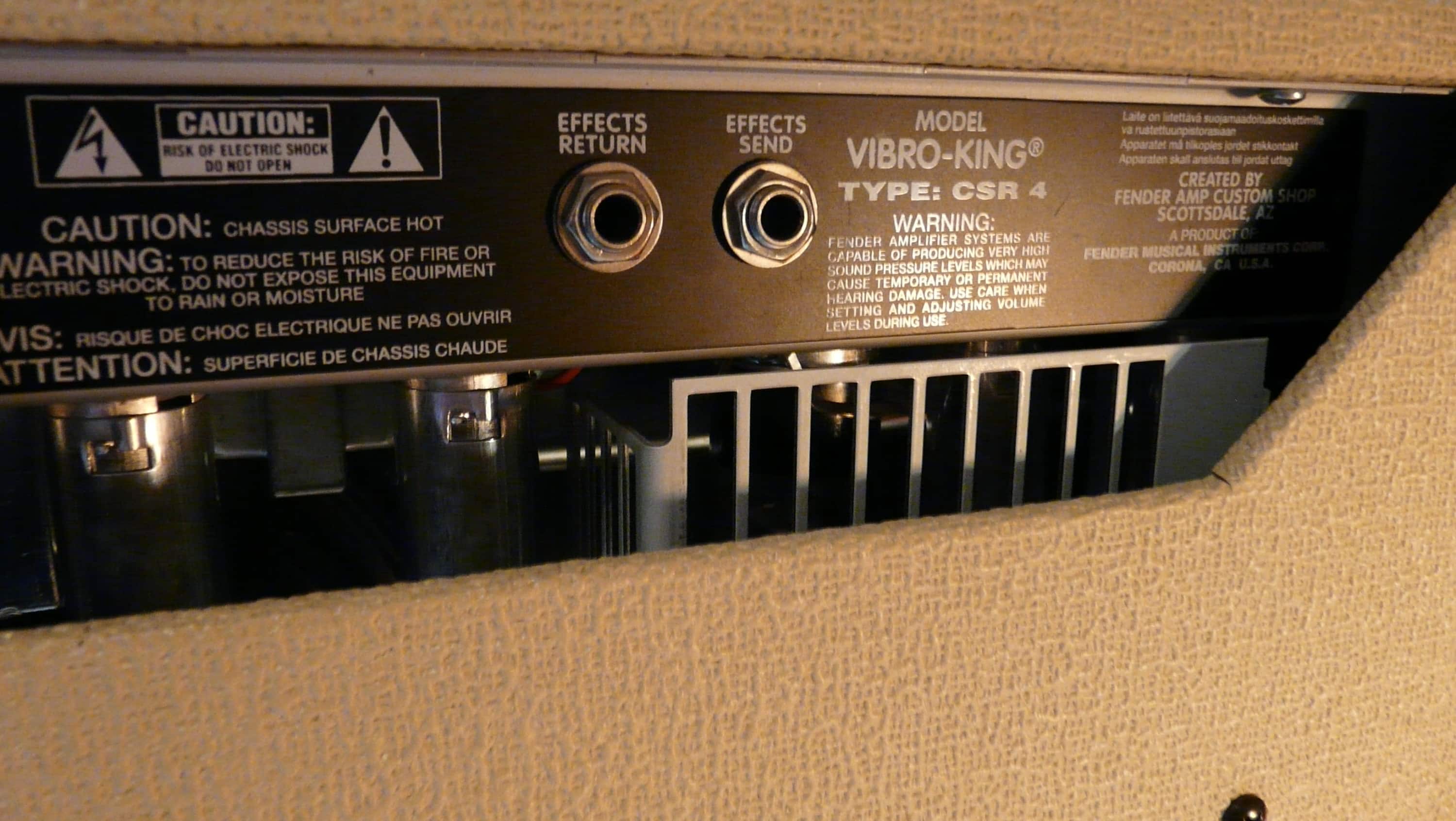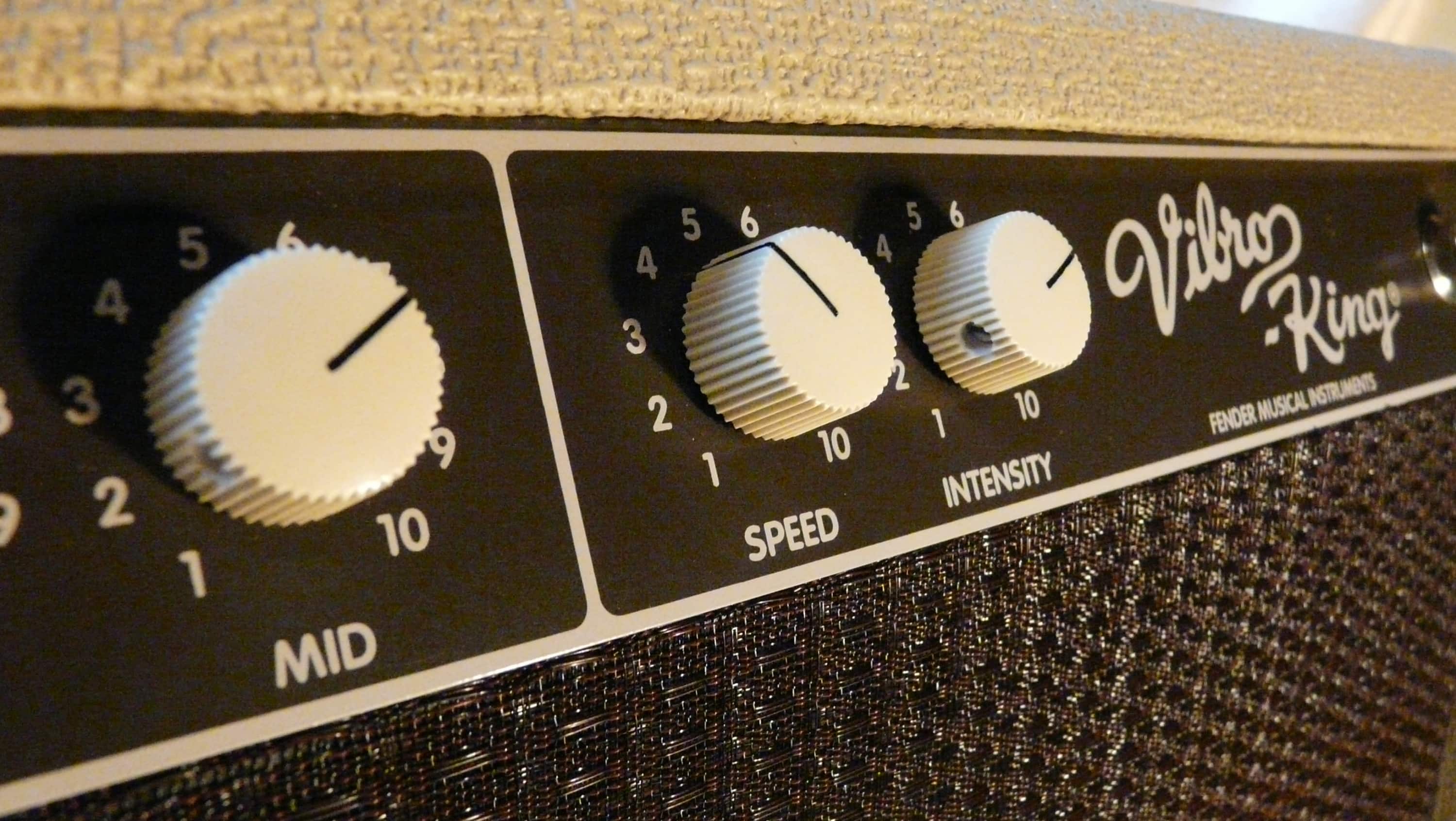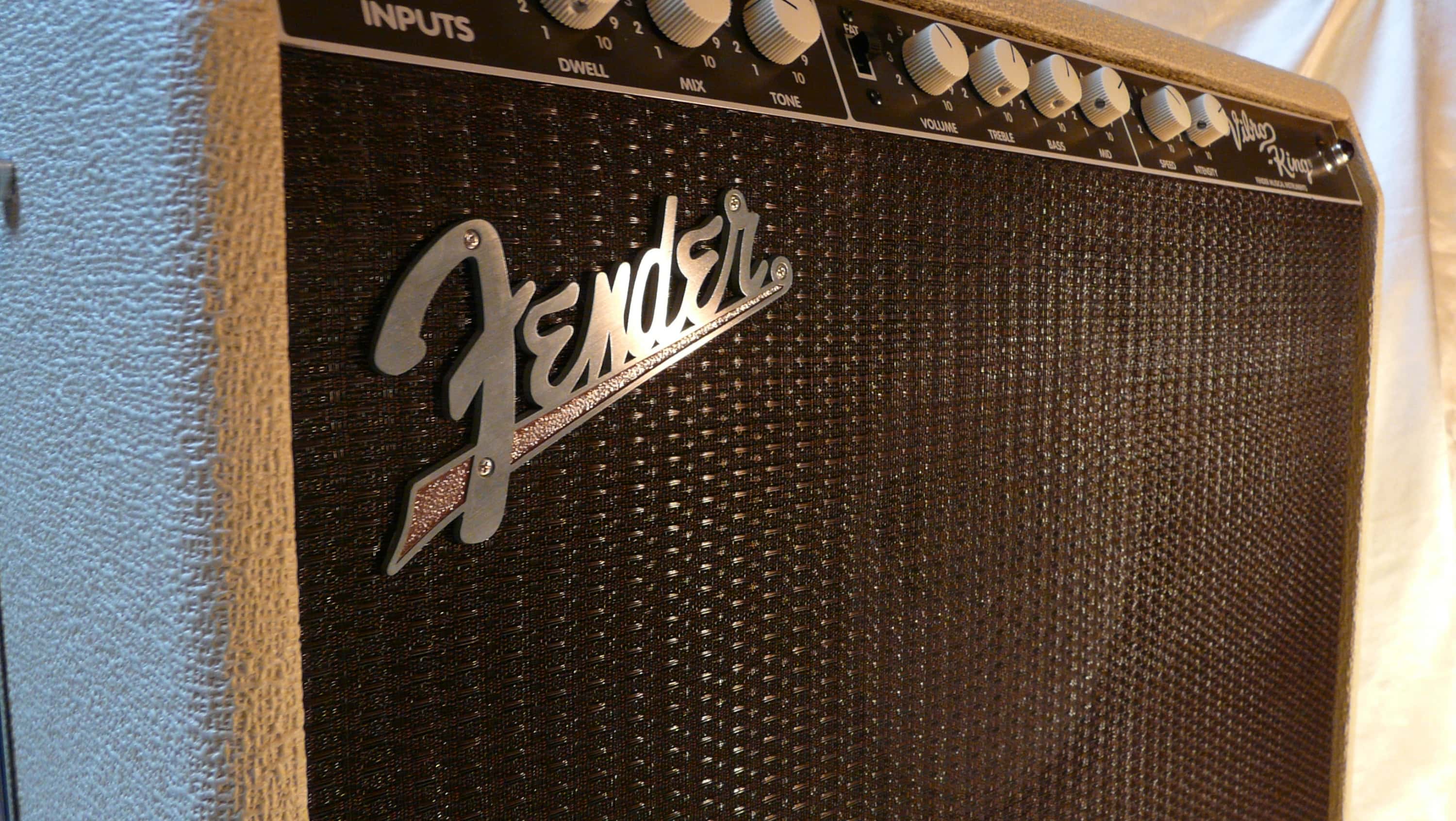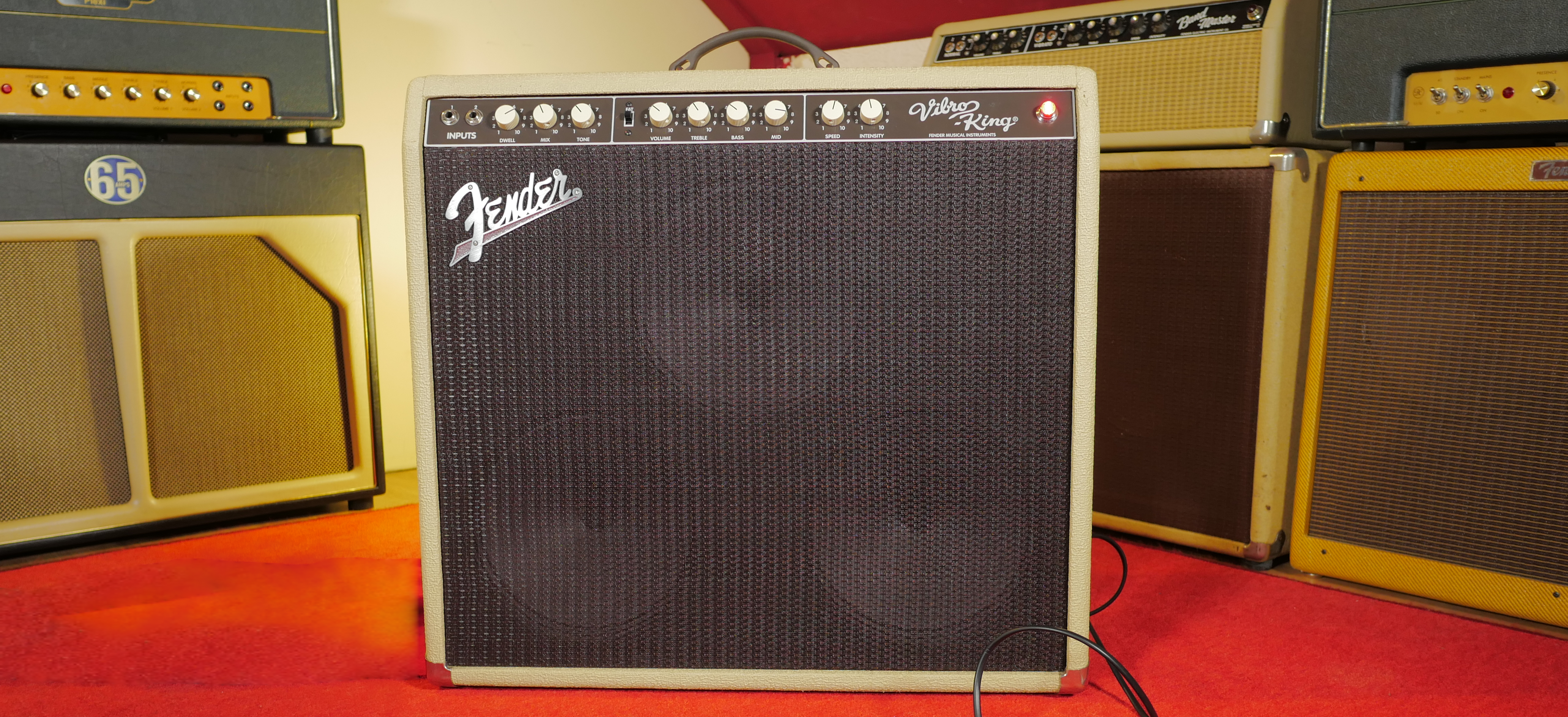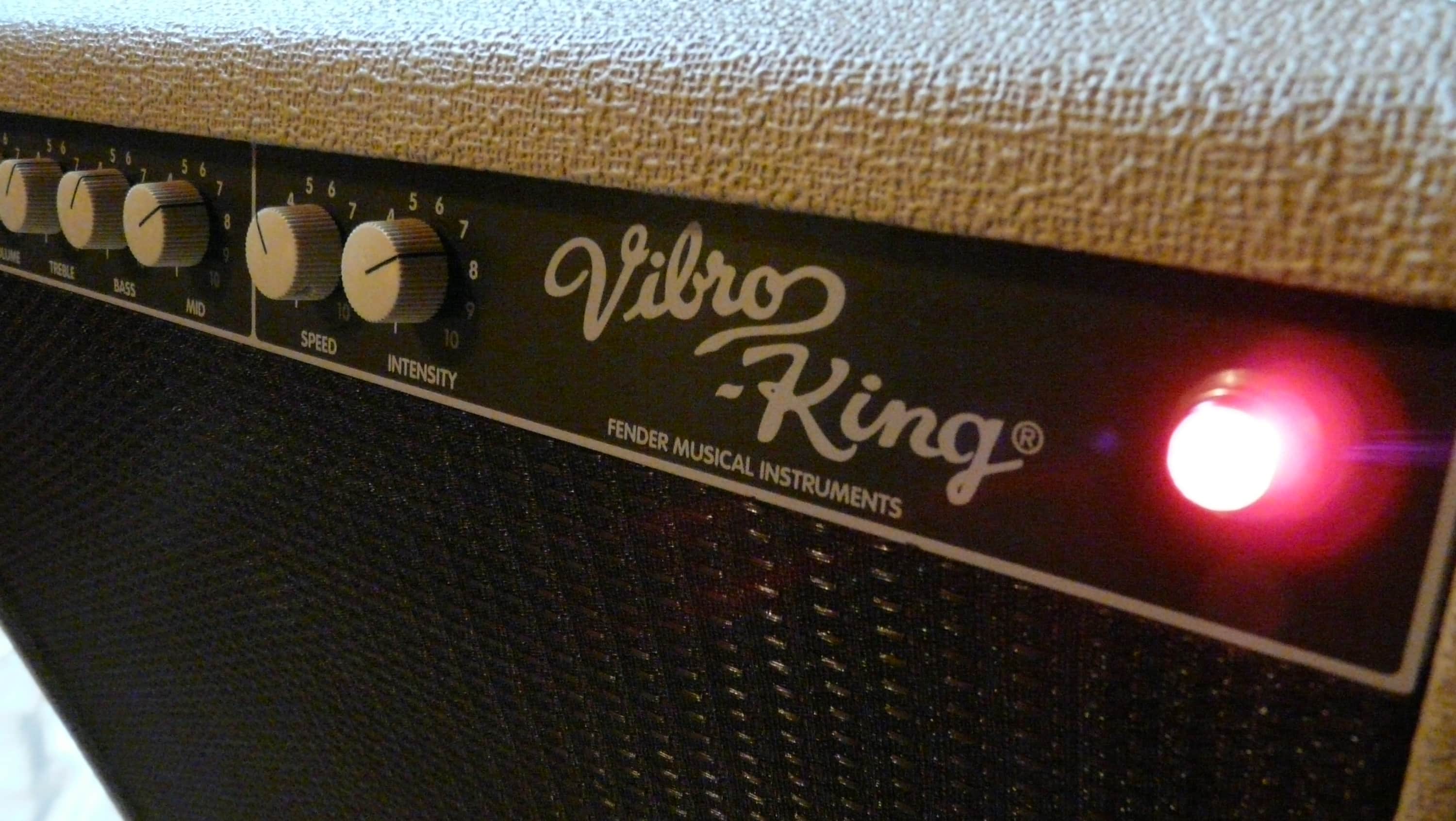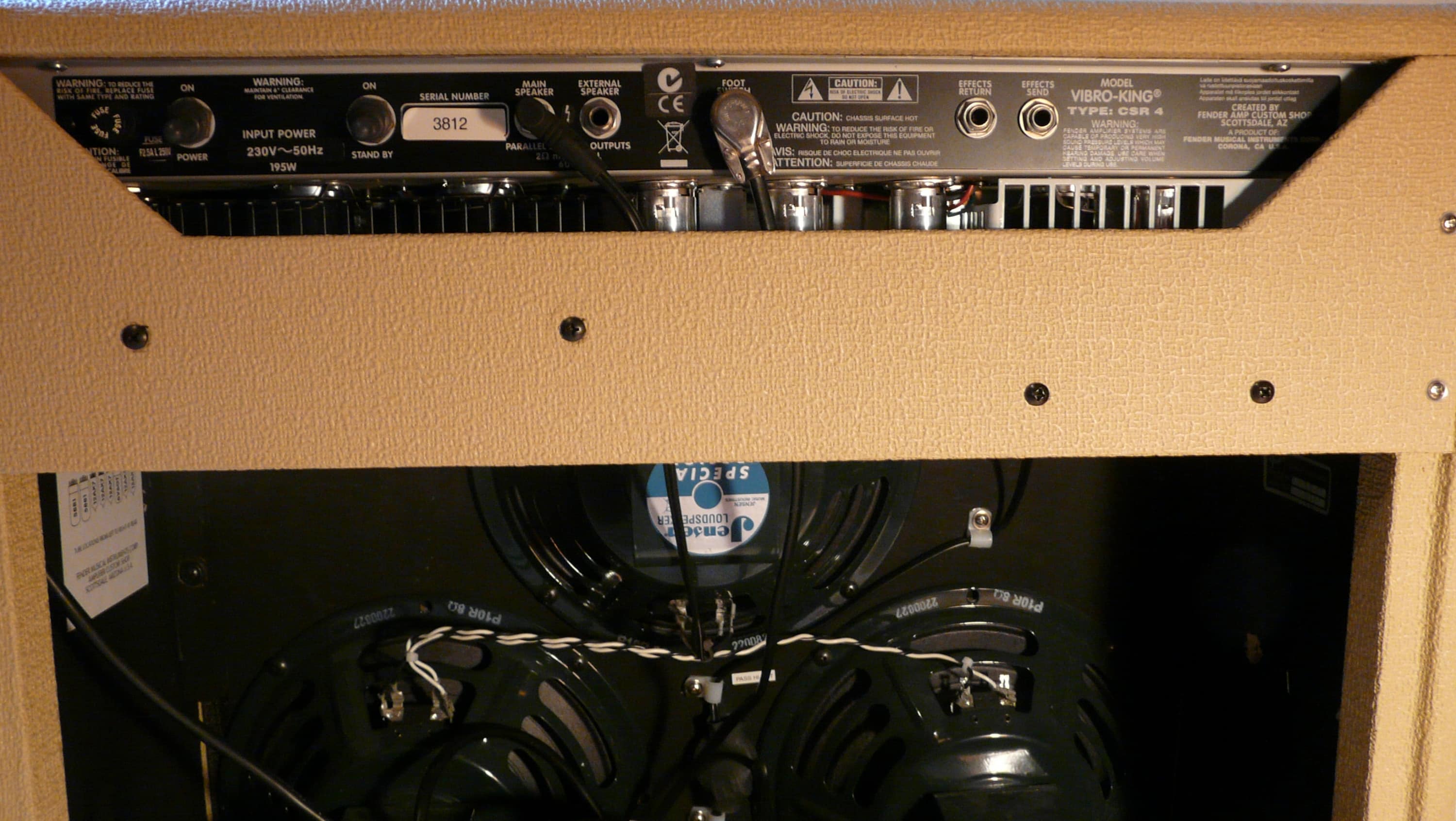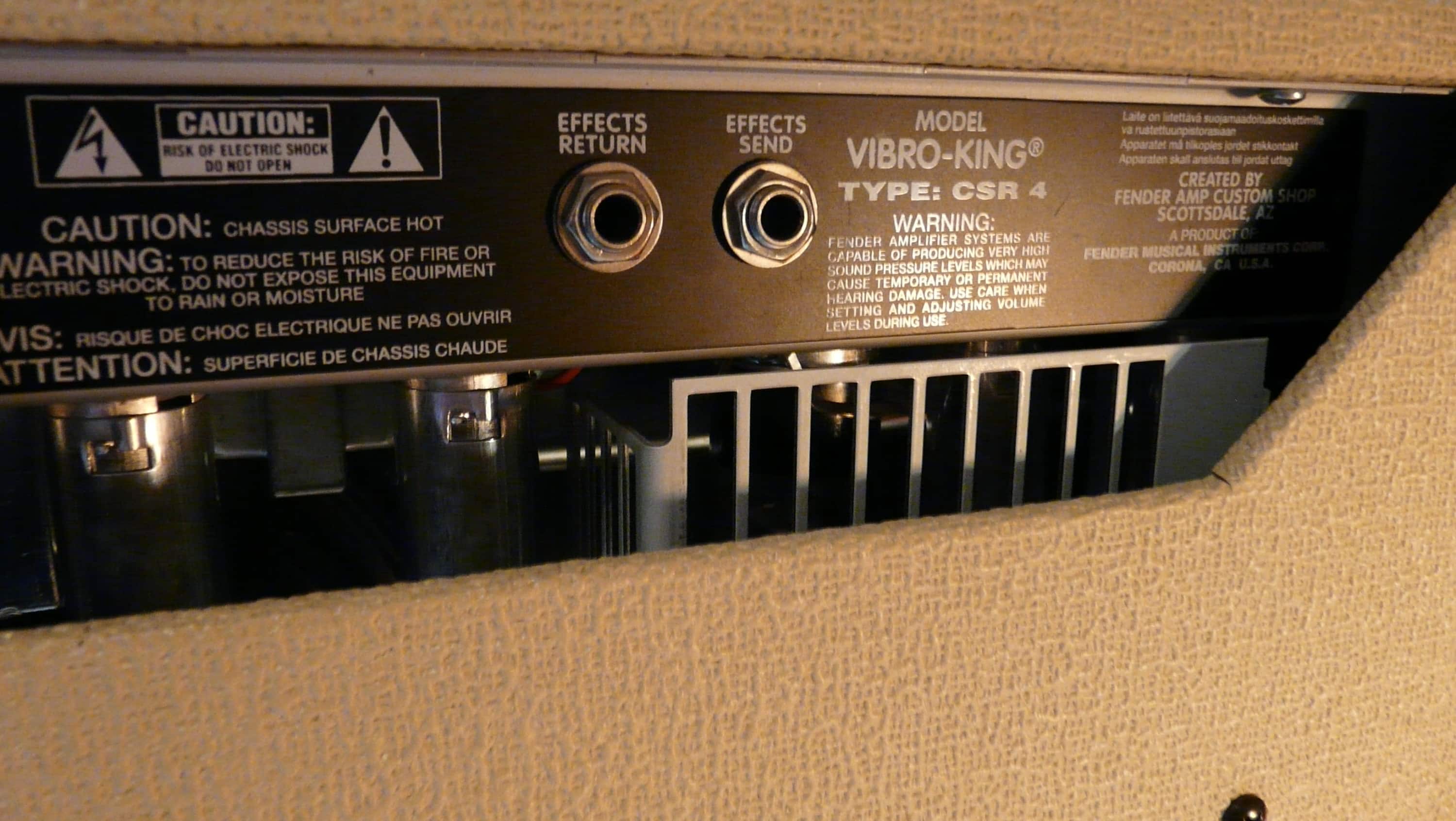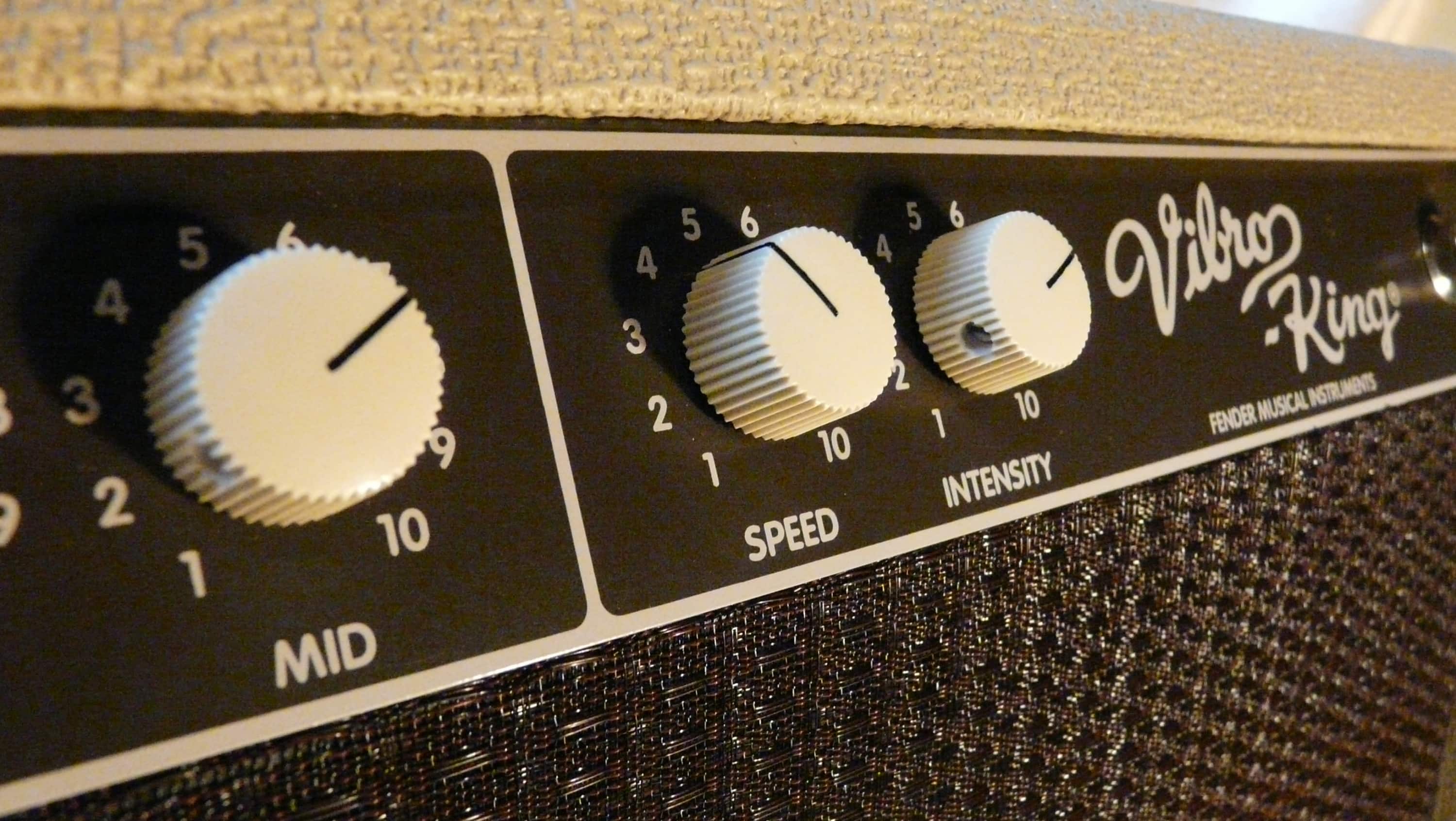 Description
Specs
Features
Famous users
Description
Handbuilt with point to point wiring construction at the Fender Custom Shop, this powerful 60 watt 3x10 blonde combo is a Bruce Zinky designed masterpiece. The 1st Vibroking hit the shops back in 1993 and has since become a modern day icon. This is not a reissue of a vintage classic, this is much more! The Vibroking is every great amp that Fender created, all wrapped up in one! Once you are familiar with the interactive controls, this amp produces anything from vintage blackface cleans, to brownface warmth,  to tweed crunch, and even crosses right over to those classic "M" JTM tones. Quite simply, this amp sparkles, chimes, sings, groans, barks and screams! 

This is a super dynamic and extremely touch sensitive amplifier. Try setting the volume past 3 or 4 to reach the sweet spot...now you are in rich harmonic overdrive territory.... and yeah...it's loud! Hit it with a boost for even more dirt....then roll back the volume on your guitar....ahh...those sweet sparkly cleans return! All the tones you need are at your fingertips! Want loud blackface cleans? Check! Want loud drive tones too? Check! Want creamy, smooth and aggressive all at the same time? Check! We haven't even mentioned  the VK's foot-switchable mid-boost, the on board world class tube driven reverb, or even the huge array of trem/vibrato sounds which are to die for! 

Our "Have your cake and eat it"Â  combo!
Specs
This 60 Watt/ 2 Ohm combo has 3x 10-inch Jensen P10R Alnico speakers. It is powered by 2 x 6L6/5881 tubes and it has 4 x 12AX7a tubes. Other valves include: 1x 6V6  (reverb driver) tube.  Rectifier: Solid state

This is an open backed 3x10 combo made with solid Baltic birch ply and covered with blonde tolex. The dimensions are: 64.8cm/25.5"(h) x 62.9cm/24.75"(w) x 26.7cm/10.5"(d) and the weight is 32.7kg (72lbs). Hand Built in the USA circa 2011.

Features
This all valve/tube hand wired Custom Shop 60 watt 3x10 blonde combo is what we at Found Your Sound term "Fully loaded".  By this we mean it has the two main classic effects built in: Reverb and Vibrato (Tremolo). It also has a mid boost switch function labelled "FAT" and a really useful effects loop but more on those later! 

Front control panel: Let's go from left to right.  We have two inputs (high and lo), followed by dwell, mix and tone knobs for the reverb. Next we have the "FAT" switch, volume, treble, bass and middle controls, and speed and intensity knobs for the vibrato/tremolo effect. Rear panel: From left to right we have: Power on/off switch, followed by the standby on/off switch. Next you have the main speaker jack (this must always be connected to the internal 3x10" speakers as it it their primary connection). Next to that is the external speaker output (for an additional/external speaker enclosure). This must only be used in conjunction with the main speaker jack. Next we have the input jack for the foot-switch (which turns the Vibrato and the FAT modes on and off), followed by the the 2 separate send and return jacks for the effects loop. 

Reverb: This is a tube driven reverb circuit and is placed before the preamp, just as if it were a Fender tank sitting on top of the amp like the old days! A great feature of this arrangement is that the reverb compresses the tone a bit more at higher levels.  With controls for Dwell, Mix and Tone, you can go from subtle ambient textures, to darker moody soundscapes, right through to those crazy crashing surf tones à la Dick Dale or The Del-Tones! Also, try adjusting the "Mix" control to further sculpt your sound. There is a sweet spot which can be found at slightly higher settings.  Just after 12 o clock you will get access to some seriously smooth tones with a gorgeous and flattering soft attack! This is unique to the Vibroking! Wow! 

Vibrato/ Tremolo: This foot-switchable effect has a HUGE range!  With the Speed and Intensity controls one can go from a very slow/soft pulsing right through to head spinning heights with a massive throb if need be! Oh my word!

"FAT" switch:  In the up position, this boosts the gain of the preamp resulting in a  yep, you guessed it..... a fatter sound! Really helps with achieving extra girth for single coils if needed! In our opinion the VK sounds best with the FAT switch engaged. Just leave it on! Heads up:  Once the foot switch is connected, the front panel switch is defeated/overridden. 

Foot-switch: Allows remote control for the Vibrato/Trem effect and the FAT (mid-boost) feature.

Effects loop: With the effects send and return jacks, one can easily connect desired outboard effects such as digital delay or chorus, with the advantage of a cleaner modulation if need be. 
Famous users
Some famous users of the Vibroking include:

Pete Townsend
Gary Clarke Jr
Ronnie Wood
Eric Clapton
Robert Cray
The late Tom Petty
---
Prices
This is the price per unit per day. We offer a multiple day discount, so rent an amp for two days f.i. and you will receive a 20% discount on the normal daily price. For longer term renting please contact us.